Want to conduct successful truck online auctions?
Look no further.  We offer you the software for online truck auctions that will enable you to outperform your competitors.
Our software is custom-branded with your company's logos and colours, elevating it to the fore of the platform. Our platform, which was created with the most recent cloud-based web technology, enables you to manage scheduled, webcast, pre-bid, and fixed-price transactions from your own website.
⏱ Timed Online Auctions
+ 🎥 Live Webcast Auctions
☁️ All in one cloud based system
📈 Marketplace
👩‍💻 Remote Clerking option
✅ Everything you need & will run from your own website
🏷 White Label Auction Software – 'value protect your bidders & IP' ( Not a group site
)
So modern works on all devices without frustrating bidders to download apps
🧑‍💻 Includes Setup, Training & Local Ongoing Support
🧾 Auction invoicing & reporting
🖥 Websites & marketing
😊 Simple for bidders and powerful for auctioneers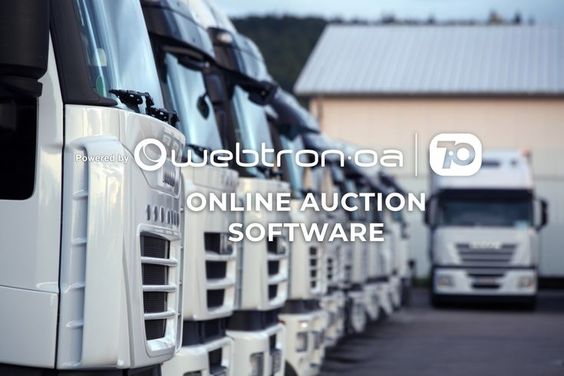 Feature rich, branded truck auction software.
For those wanting to run webcast auctions, selling your assets online is easy. Combined with a traditional auction, webcast auctions provide real time audio and video to accompany real time bidding, and pre-bidding before and during an auction helps create a flexible online environment for your bidders to place bids, regardless of where they are. The webcast system works seamlessly across modern mobiles, tablets, laptops and computers, without the need to download or install any apps.
Our flexible range of selling options and smart administrative features provide auctioneers with a full suite of online auction tools that build your auction brand and maximise profitability.
Timed auctions enjoy the flexibility of our smart filtering system which categorises assets based on model, style or year. Send your bidders tailored e-alerts which notify your bidders whenever an item of their interest is added to the platform. Bid extension, lot staggering and outbid notifications create a holistic environment for facilitating online bidding.
Our system is scalable, and designed to grow with your business.
Integrated support for your sales
Administrators enjoy a full range of features including sales, accounts, user and invoicing management functionality. Our simple to use drag-and-drop importing functionality allows you to create unlimited images within the system, whilst lots and their descriptions also carry no limit.
It's all about providing our auctioneers with the best opportunities possible to showcase their assets online.
What's more? Our professional team is available to support your sales worldwide. We cover everything from marketing support, email and technical support, system's training and more.
So what are you waiting for? Get started with a truck online auction software company that can help build your business today.
The New Webtron 7.2 Truck Auction Software is here
Take advantage of a white label auction solution that will run from your own website.
Webtron 7.2 has been designed for Truck auctioneers like you to take your online auction business to the next level.
Our software is simple for bidders and powerful for auctioneers.
Please get in touch and arrange a demo for your business.
Want to learn more? Fill in your details below.